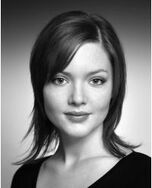 Holliday Grainger (born 1 January 1988 in Didsbury, Manchester) is an English actress primarily active in television. Over the past couple of years, she has moved into films. She has previously been credited as Holly Grainger.
She is best known to the demons wiki for portraying Ruby a main character in the series.
Ad blocker interference detected!
Wikia is a free-to-use site that makes money from advertising. We have a modified experience for viewers using ad blockers

Wikia is not accessible if you've made further modifications. Remove the custom ad blocker rule(s) and the page will load as expected.